It's really convenient, both teachers work as a team and are on the same page when it comes to the learning process. They don't try to spoon-feed you with irrelevant stuff and always stay in touch, even on weekends. If you you're fed up with the traditional slow and unengaging learning process, this would be a perfect fit for you.
And finally, I've come across something really cool! I fancy the way the curriculum is structured – with separate grammar lessons and talking sessions with native speakers. Kyle and Laine are my favorites, with lots of positive energy. You just want to fully immerse in English and come out refreshed each time. I have improved so much over the last 2 years especially through the real-life conversation sessions.
I was nervous about speaking with native speakers. When I travel, I feel embarrassed when I don't understand what people are saying and have to ask them to repeat themselves. I'm really grateful to Manhattan English for helping me finally get rid of that block. I've become a much more confident speaker of English, and I now really enjoy the language and speaking with others.
I have been with Manhattan English for 3 years. I really enjoy learning with them. I easily grasp the grammar rules, and then get to practice it in conversation. Highly recommended!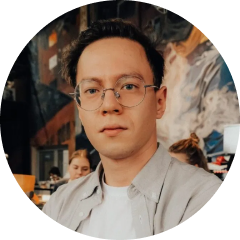 Brilliant! I loved being engrossed into the real English-speaking atmosphere, and not going over the same textbook over and over again. Thanks to Anna, I've finally succeeded in grammar and began speaking naturally without learning stuff by heart.
I really love the innovative teaching style. I no longer feel constrained by classroom walls. It's just having real conversations with real experts who help me feel at ease from the start.